MRO Russia&CIS2023 Conference
22.02.2023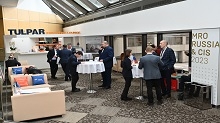 MRO Russia & CIS 2023 Conference
On February 13-14, the 18th MRO Russia & CIS 2023 Exhibition and Conference finished its work in Moscow. The Aircraft Maintenance and Repair Conference in Russia is the only event in Russia and the CIS entirely devoted to topical issues of the aircraft maintenance and airworthiness industry.
The MRO Russia & CIS exhibition serves as a venue for meetings and negotiations, and also provides ample opportunities to promote products and services among the participants of the event.
Within the framework of the event, a business conference was held for 2 days.
Representatives of Tulpar Technik LLC took part in a discussion on the topic "Import substitution and reengineering", the participants exchanged expectations, experience and practice on the turnover of aviation components between carriers, among themselves and service companies, discussed measures to improve the efficiency of such activities across the industry. And also prepared a presentation and made a report on the topic: "Personnel training for the MRO industry".
The organizers of MRO Russia & CIS express their deep gratitude to Tulpar Group of Companies for their sponsorship in organizing the exhibition.