SSJ100 flight safety promotion by Tulpar Technic
16.01.2017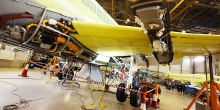 Tulpar Technic Ltd. is an independent Russian and foreign aircraft maintenance service provider; it is the Authorized Service Facility of Sukhoi Civil Aircraft, Bombardier, the Canadian manufacturer of aircraft, and Rockwell Collins, the American group of companies.
As the part of the obligations imposed by Sukhoi Civil Aircraft on its Authorized Service Facility Tulpar Technic performs RRJ-95 aircraft heavy maintenance.
Scheduled works are carried out with the participation and support of the aircraft manufacturer resulting in a high level of maintenance and prompt resolution of arising issues.
The most recent maintenance check was no exception. Tulpar Technic maintenance staff in the cooperation with Sukhoi Civil Aircraft, the manufacturer, discovered the defect of the lugs in stabilizer attachment bands.
This defect may seriously affect the RRJ-95 flight operation suspending flights of approximately 30% of models operated.
In the light of this, the Federal Air Transport Agency (hereinafter - FATA) in cooperation with aircraft manufacturer and maintenance organization promptly concluded to inspect the whole aircraft fleet, as well as perform their consistent fault detection.
This decision allowed quick determining of the aircraft requiring the modification. That allowed the operators organizing the modification works on the stabilizer attachment bands, by means of Tulpar Technic as well.
It should be noted that effort consolidation of FATA, Sukhoi Civil Aircraft, the aircraft manufacturer, and Tulpar Technic, the maintenance organization, benefits to all RRJ-95 operators, providing continuous safe operation of aircraft.
And this is the top priority of Tulpar Technic.